This post may contain affiliate links. If you purchase something through the link, I may receive a commission at no extra charge to you. For more info, check my full Disclosure statement.
For more than 25 years, Kerusso has been designing and creating Christian T-shirts, Christian jewelry, Christian toys, Christian gifts and Christian accessories that are being used by millions of Christians to start conversations about Jesus. And right now there is a Kerusso Coupon Code for Easter for 25% off everything on their site!
CLICK HERE: 25% off Sitewide with code EASTER25 April 7 – 16, 2017
The mission of Kerusso is simple – Proclaiming the Good News to the world through products about Jesus. Through T-Shirt evangelism, Kerusso helps Christians fulfill the great commission through the simple act of wearing a Christian tee shirt or Jesus T-shirts.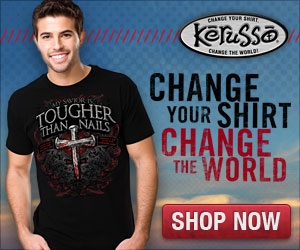 PLUS after the events of 9/11, they gave $20,000 to the American Red Cross and The Salvation Army relief funds.  They have also donated to churches, boys and girls' ranches, women's shelters, disaster relief groups and other charities nationwide.


So check out KERUSSO and not only pick up something special for yourself or your family for Easter at 25% off !
25% off Sitewide with code EASTER25 April 7 – 16 NOW EXPIRED
Save
Save
Save
Save